IngredientsˇGˇ@(8" round)
A:
one pack (8 oz./ 226g) of plain cream cheese, softened
50 ml heavy cream
100 ml milk
80g unsalted butter, softened

B:
25g cornstarch
50 ml milk

C:
150g egg white
100g sugar
10g cornstarch
1 T of rice vinegar/ lemon juice/ cream of tartar

D:
138g egg yolks (about 8 yolks)
flour and shortening for grease the pan.
UtensilsˇGˇ@
hand mixer, spatula, 8ˇ¨ round pan, sieve, parchment paper (cut to fit the pan), a large pan that can fit in the 8ˇ¨ round pan.

ProcedureˇGˇ@
1. Combine A. and heat in a double boiler (with simmering water). Stir occasionally while heating until big chunks disappear.
2. Mix B. and pour into A. Beat and add egg yolks into the mixture as well. Sift to make sure there are no more chunks in the mixture. Preheat oven to 150 C/ 300 F. Line the 8ˇ¨ pan with parchment paper (bottom only), and then grease and flour the sides.
3. Use a clean and grease-free mixing bowl to beat egg white and vinegar (material C.). Add sugar and cornstarch in small portions while beating until can form a peak. (picture: click here)
4. Scoop 1/3 of the egg white foam to mix with the batter, and then transfer into the rest egg white foam and stir with a spatula. (be careful not to over-mix)
5. Pour the batter into the 8ˇ¨ round pan, place the pan in another large pan that can fit in the round pan. Add warm water in-between for bath baking. (picture B & C) Transfer the two pans in oven and bake for 25 minutes. After the top is tan-colored, reduce the heat to 125 C/ 260 F and continue baking for one more hour. Insert a stick to test if itˇ¦s done inside. Let cool; transfer to refrigerator and stand for one night. (It tastes great after keeping in fridge for at least one night.)
Wendy's NoteˇGˇ@
1. Itˇ¦s a Japanese-style cheese cake; not really the ˇ§cheese cakeˇ¨ we normally refer to, but a cheese-flavored sponge cake. The texture is moist and soft, so you wonˇ¦t feel too much to have more!!
2. May brush some melted gelatin or apricot jam on top to have a shiny and beautiful look.
3. Bath baking can prevent the cake from heating quickly and thus have cracks on surface, so please do not skip this.
Foot NoteˇGˇ@
1 cup = 240 c.c. = 240 ml
1 tablespoon = 15 c.c. = 15 ml
1 teaspoon = 5 c.c. = 5 ml

Photo AˇGˇ@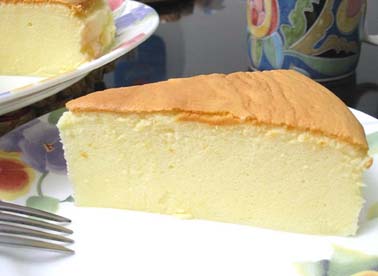 Photo BˇGˇ@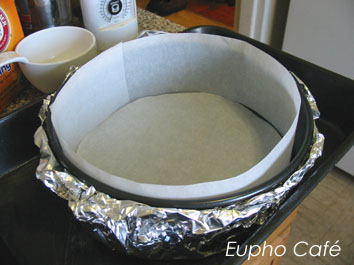 Photo CˇGˇ@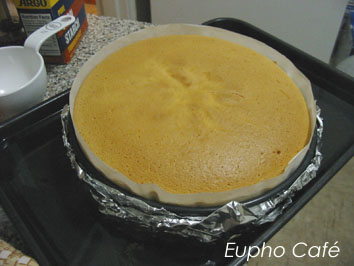 Difficulty RatingˇG




Set-up DateˇGˇ@11/2/2005
ViewedˇG28395